Topics
19.06.15
Strong support by former foreign minister
Today ex foreign minister of Estonia Mrs Kristina Ojuland made a strong announcment supporting "Unified Estonia". ""No immigrants" - absolutely," she said. "If we let niggers in, our beautiful and pure Estonia will be kaputt."
Mrs Kristina Ojuland, who is ex foreign minister of Estonia and was a year ago member of European Parliament, has been strong supporter of "Unified Estonia" for years already. Back in 2014 she said: ""Unified Estonia" was the first one who draw our attention to the issues that need to be handled in our society."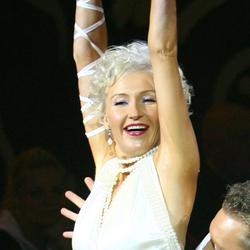 Mrs Kristina Ojuland. Feeling free in Estonia.
Today another strong comment came when she in the weekly political magazine "Kroonika" announced that no immigrant should get in. Even more so: "We should stop those things already before they can cross Mediterranean Sea. As soon as they reach Estonia, our free country will be demolished." She has started an European campaign for stopping immigrants. A couple of days signatures were gathered in Finland by Estonian immigrants there for the petition to stop immigrants.
NB! Everybody can sign also in our box!